Cancer charity runner's widow completes half marathon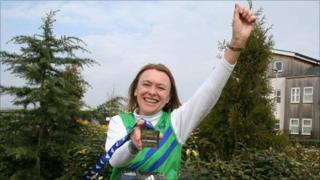 A woman has run the Reading half marathon in memory of her late husband who died of asbestos-related lung cancer at the end of January.
Ros Lee, from Charvil, ran as a tribute to her husband, Steve, who was a member of the Reading Roadrunners.
They completed the half marathon together in 2009 to raise money for research into mesothelioma, despite Mr Lee having the terminal disease.
Mrs Lee said: "I cried when I was doing it this time, thinking of Steve".
She added: "He's my inspiration and I just wanted him to be proud of me."
Mr Lee died in January aged 65 from the asbestos-related cancer.
Mrs Lee wore bracelets bearing their first names as she ran, and took along the shirt she wore when they ran together two years ago.
She completed the course on Sunday in about two-and-a-half hours and was accompanied by members of the Reading Roadrunners.
One member, Barry Baker, who was the best man at Steve and Ros's wedding in 2007, finished the race then ran back to join Mrs Lee as she completed the rest of the 13.1 miles.
Before his death, Mr Lee and the club had raised more than £40,000 for the June Hancock Mesothelioma Research Fund.
Mrs Lee ran in aid of the fund.
"I didn't ask people to, but people kept offering to sponsor me to run for the fund," she said.
"Since Steve's death the money has continued to come in. I sent off £700 to them last week," she added.
The money has been used to set up a research project in Mr Lee's name at Queen Mary, University of London.
They are synthesising a naturally-occurring bacteria, which has been shown to act against mesothelioma cells, in sufficient quantities to see if it could be used as a treatment for the disease.