Reading band Amy's Ghost to work with Martin Rushent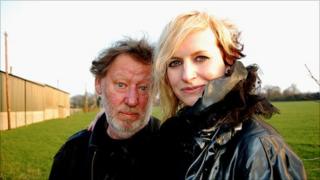 Amy's Ghost, a favourite on the BBC Introducing stage at Reading and Leeds last year, have revealed they will be working with Martin Rushent.
The tribal alt-folk outfit from Reading met the producer, most known for producing The Human League's seminal album Dare, at a local gig.
"I found their music very intriguing," says Mr Rushent, who has also worked on records by T. Rex, Fleetwood Mac and Shirley Bassey.
"I thought there was a severe amount of originality there. I loved Amy's voice and I loved the songs".
Fresh from producing the new album by Does It Offend You, Yeah?, fronted by his son James, Mr Rushent will be remixing some existing Amy's Ghost tracks, working on new demos and honing their live sound.
"I want to make it sound clearer," he says, "The really interesting thing about Amy's Ghost's music is that it is quite intricate.
"There is a lot of stuff happening but it all fits together".
D.I.Y. band
Amy's Ghost have always produced themselves in the past.
"We're completely D.I.Y.," says singer Amy Barton, "We don't sleep really, we're always either promoting, booking or working on new tracks."
The six-piece have turned down a distribution deal and the services of top commercial producer.
Their debut album, Dance of Defeat, came out in July 1010 on their own label, First Circle Records.
But the band "clicked" with Mr Rushent when they met him and are "really excited" to be working with the Pangbourne-based producer.
"We have a very similar sense of humour and a very similar ethos on music," says Amy.
"We both feel that we don't want to be spoon-fed music. We want to be producing something really original and something we can be really proud of."
Watch Amy's Ghost at the Reading Festival here.