Brookfields School launches £100k appeal for playground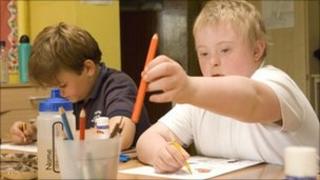 A special school has started an appeal to businesses or individuals to sponsor equipment for a new playground.
Brookfields School in Tilehurst, Berkshire, needs to raise £100,000 to make its playground fully accessible.
It was due to move to a purpose built campus along with Denefield School and Long Lane Primary School, but this was abandoned due to lack of funds in 2009.
Now the school is hoping to raise the money for improvements through sponsorship.
The mother of a special needs child at Brookfields said it was "heartbreaking" that her son could not use his school playground.
Karen Carne's six-year-old son Daniel attends Brookfields and she said the play area desperately needed upgrading.
'Brilliant school'
"Daniel's got global developmental delay, which means he can't stand or walk unaided," she said.
"At the moment he goes outside in a walking frame or his wheelchair but he can't get anywhere, because he can't move on the tarmac and grass.
"The toys and equipment they've got there, a physically disabled child can't actually access them.
"It's heartbreaking to see him standing on his walking frame and not actually be able to join in."
Ms Carne said Brookfield was a "brilliant" school.
Sara Avenell, a teacher at the school, said the children could go outside, but the school was unable to provide "a stimulating learning environment".
"We haven't got any specialised equipment our children can learn with," she said.
"We desperately need a new outside classroom as our outside space at the moment is badly surfaced without any suitable equipment, shelter or resources.
"It is a mud bath in the winter and even worse in the summer."