Kate Middleton's home village coach tours set to end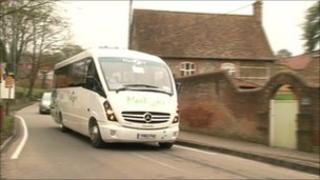 A coach tour of Kate Middleton's home village in Berkshire is set to end this weekend - five weeks before her wedding to Prince William.
Mortons Travel advertised the trip as "the inaugural tour of Kate Middleton Country" which it said had proved to be an "international success".
But the third and final coach tour of Bucklebury will be held on Saturday.
The firm said there had been more interest in abroad than at home and it had only "ever envisaged doing one".
Dubbed the Kate Middleton Tour, it launched in February and took passengers on a guided tour of local sights including the 29-year-old's former school in Bradfield and St Andrew's Church.
It also visited The Old Boot Inn where the couple have enjoyed time together and drove past the home of her parents Carole and Michael, which was hidden from view by trees.
'Encroach on privacy'
When he launched the tours, company owner Adrian Morton said companies in the USA and Japan were looking to try to hire its coaches to do their own tours.
A spokeswoman for the business said it had only intended to do one tour for its regular clients but had put on a second date due to media interest.
Tickets were originally priced £10 per person but increased to £35 per person to cover additional fuel costs of collecting customers, mainly journalists, from London.
"Local people aren't that enamoured. I think people from abroad were more interested than people in our country.
"We didn't want to encroach on the privacy of the family.
"We have had lots of other inquiries but we really didn't want to do any more," she said.
Miss Middleton will marry Prince William on 29 April at Westminster Abbey in London.