MP Rob Wilson plans new secondary school for Reading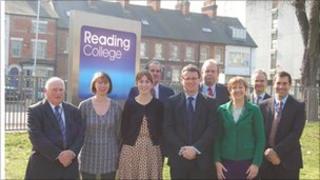 An MP is spearheading a move to provide a new secondary school for Reading based on technical skills as well as academic courses.
Rob Wilson has enlisted the support of local schools and colleges as well as Reading University to help him set up the school.
Unspecified "business organisations" will also be involved with the school.
The council says a new secondary school is needed in Reading due to increased demand for places.
Mr Wilson told BBC Radio Berkshire he was interested in setting up a school based on a German educational model.
"In Germany they offer students a high quality pathway towards university and also a high quality route onto technical skills, employment and FE Colleges," he said.
"Plus we have a very strong blue chip company base that will be in involved with this."
Pressure building
The MP for Reading East will also work in partnership with Reading School, Reading College, Reading University and Oxford and Cherwell Further Education College.
Mr Wilson would not reveal if the school would be one of the new government free schools planned for Berkshire.
Free schools are part of the government's reforms to education in England, and allow groups of local parents, teachers or charities to establish their own schools.
He said: "We are not announcing today what kind of school this is. There are also university technical schools and academies. It will be a state independent school."
Mr Wilson said the school would eventually offer 800 to 1,000 school places, and that he had been lobbied by both Reading Borough Council and Wokingham Borough Council to set up the school due to a shortage of secondary school places.
The school is expected to initially offer 500 places and open in 2012.
This year in Reading 66% of children got their first choice of secondary school. Just 19% of children who applied to the oversubscribed Kendrick and Reading selective schools got places.
By contrast, other local authorities in Berkshire with no grammar schools such as West Berkshire, Wokingham, Bracknell and Windsor and Maidenhead, more than 75% of parents got their first choice school.
There are also proposals to change the catchment area for children who currently attend Maiden Erlegh and Bulmershe School.
"The key thing is it will be a high quality, high performing school that will offer children in that area the best possible education," said Mr Wilson.