Reading rail bridges widening closes Cow Lane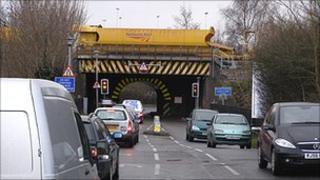 Motorists have been warned to expect delays when a road is closed as part of a revamp to Reading's railway station.
Cow Lane will be shut from 1900 GMT until 1100 GMT on Sunday while work to widen two rail bridges starts.
The project will see the bridges expanded to fit two lanes for motorists, a cycle path and pavements to help ease a traffic bottleneck.
The work is part of a £850m revamp of Reading station by Network Rail which is due to be completed in 2016.
Cow Lane will again be closed in May, this time for for up to three weeks, as part of the widening scheme which will also allow space for a new track layout to boost capacity for rail users.
Bill Henry, Network Rail's project director for Reading, said: "Our work in Reading isn't just about improving the performance of the railway and building a better station.
"The changes we're making to Cow Lane will bring big benefits for cyclists, pedestrians and motorists, cutting congestion and making the road safer.
"This is a big engineering project and we're making every effort to minimise its impact on residents and businesses in the Cow Lane area."