Census apology after Bracknell mobile home park missed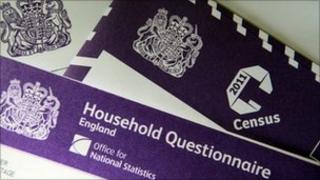 Census bosses have apologised after nearly 500 homes in a Berkshire town were missed off the address list.
Residents living in Warfield Park, Bracknell, were left without forms to fill in after the mistake two weeks ago.
Volunteers hand delivered the questionnaires to people living in the mobile home park on Sunday, when they were due to be filled in.
Cherry Bluett, census area manager, said: "It was a genuine mistake".
'No record'
The census is run by the Office for National Statistics (ONS).
Repeated failure to fill in the census form could result in a fine of up to £1,000.
"I think we just made a mistake and the first thing I want to do is apologise to the people of Warfield Park that their questionnaires didn't arrive in the post when the rest of Berkshire had their questionnaires delivered," Ms Bluett added.
"We reported it back for the ONS who are running the census and they double checked all their records and admitted that somehow they had no records for Warfield Park."
Resident Ivy Prowse, whose home was missed out, said: "It becomes a joke doesn't it, that means that about 1,000 people have been left out of a census which I think is important.
The census has taken place every 10 years since 1801, apart from during World War II.