Reading University wants to charge maximum £9,000 fees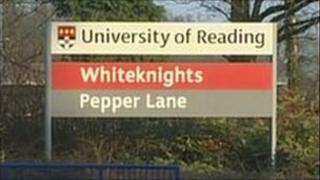 The University of Reading has announced plans to charge students the maximum yearly tuition fee of £9,000.
The university is among the latest three institutions to announce their fee plans from 2012.
The government has said universities will only be able to charge higher fees in exceptional circumstances.
Reading said it would be putting together a package of support to help poorer students.
It said it had an "enviable record of providing a high-quality student experience", which it was "committed to upholding".
"To sustain this level of support and investment for our students, in light of significant cuts in government funding for universities, we will need to charge a fee of £9,000 across all our full-time undergraduate programmes," the university said.
As well as Reading, Liverpool University also confirmed earlier that it was recommending to its council that it should charge £9,000 a year.
Leeds Metropolitan became the first of the newer, less selective group of universities to officially announce its new fee level earlier of £8,500 for all full-time undergraduates from 2012.
Selective universities
Previously the universities of Oxford, Imperial College, Durham, Exeter, Essex, Surrey, Manchester, Warwick, Aston, Birmingham, Lancaster, Cambridge and University College London have said they want to charge the maximum yearly tuition fee.
Most of these are the more selective, research-based universities.
Only a few universities have said they will charge below the maximum.
But a study by Research Fortnight magazine concluded half of England's universities are likely to charge the maximum fees, while only a few will set a level less than £8,000.
The government, which raised the fee limit to £9,000, has warned that universities should not all seek to charge the maximum - as the funding for student finance is based on an average fees level of £7,500.
Like all universities, Reading will have to seek approval for its fee level from the Office for Fair Access.