Reading University students say £9,000 fee is too high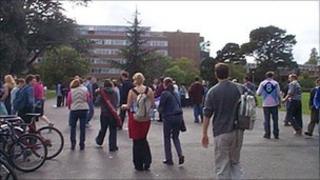 Students have said they are "very concerned" at Reading University's plan to charge the maximum £9,000 yearly fee.
University students' union president Jess Lazarczyk said the fees may put off poorer students.
Vice chancellor Professor Gordon Marshall defended the decision and said the university needs to maintain its "high quality".
He added that the university will offer a support package for poorer students.
Miss Lazarczyk said the students' union understands all universities are "stuck between a rock and a hard place."
"Their fees have got to reflect the quality of teaching," she said, "but at the same time they don't want to be seen as the bargain university."
She added: "The students' union at Reading is very concerned that the £9,000 isn't necessarily going to reflect the quality of the education that students will be getting.
"I do think they should have charged less."
Professor Marshall denied Reading is charging the maximum fee to avoid being seen as a cheaper university.
He said: "It's not about keeping up with the Jones's. High quality higher education needs to be funded.
"The government has withdrawn most of the funds. If you want to maintain the quality you have to replace the funds."
He added outreach schemes at local schools and financial support packages will prevent student numbers from falling at the university.
He said: "People will be admitted here on an ability to learn, not an ability to pay."