Berkshire council wants utility firms charged for works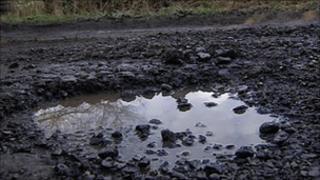 Windsor and Maidenhead council has said it is looking at charging utility firms for digging up roads.
About 40,000 holes are dug in the Royal borough annually - five times that in the neighbouring Slough authority.
The council said it has no control as firms can carry out emergency work whenever they want under rules agreed by a previous Conservative government.
The National Joint Utilities Group said holes were dug for good reason to ensure services were maintained.
Minimise disruption
Councillor Colin Rayner, highways chief at the Tory-led council, said: "We have utility companies that come into the borough, dig up the road and do a lousy job and there's nothing in the world we can do about it.
"The biggest problem we have is you have a big utility firm and they sub it out to a contractor, they then sub it out to another contractor, they then sub it out to another and they sub it out to a man with a van.
"He's been paid a penny for the job while someone else has taken the lion's share and he can't do a quality job."
He said the authority wants the firms to work with the council before going ahead with repairs to minimise disruption to road users.
Mr Rayner said he is looking at two current schemes, one planned in London where utility firms are charged rent of the highway and a trial in Kent where firms pay for a permit and are charged extra if they overrun.
Les Guest, chief executive of the National Joint Utilities Group, said: "We've got to understand in the UK we have a very ageing energy and water infrastructure.
"They do require replacement, or immediate emergency repairs and it is important that we do this so everybody has electricity, gas, water and communications.
"Digging up the holes is not for fun, it is for a good reason."