Clean-up at Berkshire school over science blast asbestos scare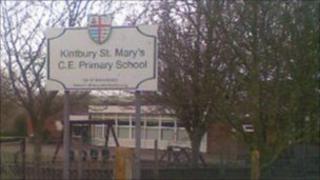 Specialist cleaners will spend the weekend removing asbestos dust from a school after about 70 pupils were exposed to it following an explosion.
Pupils were evacuated from St Mary's in Kintbury, Berkshire, when a chemical test involving a hydrogen balloon caused a "sonic reaction" on Thursday.
Dust that fell from the ceiling tested positive for a small level of asbestos.
The school reopened on Friday but the hall has remained shut. Health and safety officers are investigating.
The hall is expected to be reopened on Monday.
The children's uniforms were kept for testing and the pupils were sent home in their PE kits after the incident during a science lesson.
Health and safety officers from the local education authority have returned to the school to continue their investigation.