Family's tribute to Marlow car crash teenager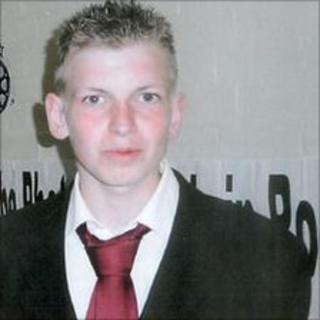 The family of a teenager who was one of two people killed when their car careered down an embankment has paid tribute to him.
Driver Thomas Blunden and passenger Alexandra Kurzyniec, both aged 17, of Reading, died on Tuesday night on the A404 Marlow bypass, Buckinghamshire.
Tom, who had just started a computing course, was described as a "much loved" son and brother by his family.
A 60-year-old man was held on suspicion of causing death by careless driving.
The man, from Oxfordshire, was questioned and later released on bail.
Top marks
In a tribute, Tom's mother, grandmother and two sisters said they had received hundreds of tributes from across the country.
"We have realised today how much he was loved," the family said.
"It makes me so proud to have had him as my son."
The teenager had just started a computer course at Zenos.
His family added: "He would come home each day and say how well he had done by getting top marks in his tasks.
"I am very grateful to them for giving Tom the chance to do what he really wanted and enjoyed doing."
His father Rennie added: "Tom was a much loved son and brother with a large circle of friends.
"Full of life, a caring nature and a huge heart, he was always in demand to repair something for friends and family."
Police are appealing for witnesses.