Work starts on new Reading cancer clinic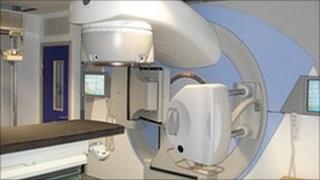 Construction work has begun on a new cancer clinic at a Reading hospital.
Cancer patients at the Royal Berkshire hospital will benefit from a £4m radiotherapy machine in the clinic.
Work has started on a concrete bunker to house the Linear Accelerator (Linac), which delivers higher levels of radiotherapy.
Dr Richard Brown said: "This technology is revolutionary in that it allows us to increase the dose without increasing the side effects."
The facility is due to open by early 2012.
For safety reasons the Linac, which emits radiation, has to be encased in a concrete bunker.
The machine will use IMRT (intensity-modulated radiation therapy) to deliver higher levels of radiotherapy to better targeted and smaller treatment areas for patients.
Another Linac will be installed at a new Bracknell cancer clinic when it opens on Tuesday 31 May.