Lost Boys win Barbados album deal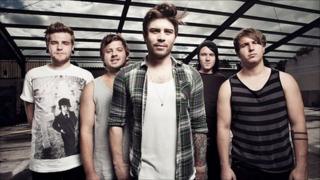 Of all the dreams a young band can have, recording an album on a Caribbean island is surely one of them.
This dream has come true for Reading alt rock band Lost Boys, who have won a competition to record their debut album at Rising Records' studio in Barbados.
Beating hundreds of UK bands, the quartet are now signed to the label and will be heading out in November.
Lost Boys formed in summer 2010 and released single Choose Your Words Carefully on Sunday.
Frontman Dan Wright said he was incredulous when he'd heard the band had won.
"I didn't believe it," he said.
"Our drummer Stuart had entered us and sent in some demos. We didn't think anything of it and then we got a call saying we'd won."
The quintet are now gearing up for recording with metal label, home of Cradle Of Filth and Trigger The Bloodshed.
"We are writing and playing as many shows as possible," said Dan. "We're going to self-release some singles and videos."
He added that the pressure is on to come up with an album's-worth of material, but that it is also tricky to have all the songs ready to record at this early stage.
"Because it is so far away we don't want to write all the songs now," he said. "When it comes to November those songs will be stale to us.
"When you write something new it's more exciting to play."
Lost Boys will be releasing an EP soon and are playing at Face Bar, Chatham Street, Reading on Tuesday 24 May.