Parents' safe driving plea after teenage son's death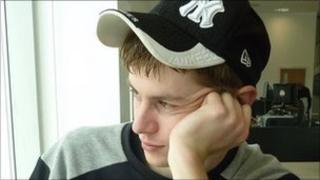 The parents of a teenager from Earley in Berkshire who was killed in a three-car crash have urged young motorists to think carefully before they drive.
Simon Barnes' family said they hoped other young drivers would reflect on what had happened to their son.
They urged young motorists to drive safely, adding: "We must try and ensure that no other young life is lost - cars are not a toy."
The 19-year-old from Stockbury Close died on Saturday afternoon.
'Worst nightmare'
He was driving his yellow Peugeot 106 in Lower Earley Way when he was in a collision with a red Vauxhall Nova and a silver Vauxhall Astra at around 1400 BST.
Paying tribute to the motor mechanic, his family said in a statement: "Simon always had a passion for cars and they were his love. He was a typical teenager who enjoyed life to the full.
"We are not able to turn the clocks back. We are all living our worst nightmare and life cannot now throw anything more painful at us."