'Duchess's pub' attack: man questioned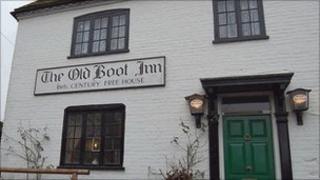 Police have interviewed a man about an alleged racial attack outside one of the Duchess of Cambridge's favourite Berkshire pubs.
A 43-year-old Asian woman, wearing a Union Flag-inspired T-shirt, said she was verbally abused near to a picnic table at the rear of the Old Boot Inn.
Police said a man and a woman, both white, were also assaulted near the pub on Friday during a royal wedding party.
A 25-year-old Reading man went to police voluntarily but not arrested.
PC Stewart Argyle, from Newbury police station, said: "A man has attended Newbury police station and was interviewed on a voluntary basis.
"The investigation into the incident remains ongoing."
The injured man, aged 41, suffered bruising and grazing to his face and the woman, aged 39, suffered a cut above her left eye and swelling to her cheek.
None of the victims required hospital treatment.
Landlord John Hayley, who had returned to the pub after earlier attending the wedding ceremony at Westminster Abbey, said the attacker managed to get into the party without an invitation and became violent after being asked to leave.
The pub is said to be a favourite haunt of the duchess who grew up in the nearby village of Chapel Row in the parish of Bucklebury.