Reading Borough Council stays under no overall control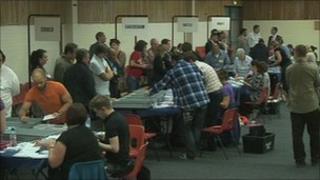 No party has managed to gain control of Reading Borough Council following the elections.
Labour gained three seats overall, with the Conservatives losing one and the Lib Dems, three. The Greens doubled their representation to two seats.
Reading Liberal Democrat group leader Kirsten Bayes lost her Redlands ward seat to Labour.
The borough council had previously been run as a Conservative-Lib Dem coalition.
Ms Bayes said: "The tide that sweeps people in can also sweep people out again."
Leader loses
The Conservatives have won 14 seats from the Liberal Democrats in elections at the Royal Borough of Windsor and Maidenhead.
The Lib Dems now hold only one council seat, down from 15. The Tories now hold 51 seats out of 57 and retain control.
In West Berkshire the Tories also won three seats from the Lib Dems and remain in control. They now hold 39 out of the 52 seats, with the Lib Dems keeping the remaining 13 seats.
The Conservatives also held on to Bracknell Forest Council, where they gained one seat from Labour and now hold 40 out of 42 seats.
In Wokingham the Tories remained in control, gaining two seats from the Lib Dems.
Labour held on to Slough - its only one in the royal county - where they gained three seats from independent councillors and one from Lib Dems.
In Windsor and Maidenhead, Liberal Democrat group leader Simon Werner was among the 14 party members to lose their seat.
'Not complacent'
He said: "There's been a huge national trend against us.
"It is a sad day for residents and we have lost a lot of very experienced Liberal Democrats councillors.
"I am obviously hugely disappointed, both for myself, my colleagues and the residents of the borough."
Council leader David Burbage said the victory was satisfying after an "upsetting" campaign from the Conservative group's opponents.
He added: "We've worked very hard during the campaign and we've obviously got quite a good profile locally with our council tax cuts and being at the vanguard of the Big Society.
"But we are not complacent, we have a lot more to do.
"We want to respond to voters' needs and we think we have been rewarded in that way."
The final declarations for the remaining councils in Berkshire are expected by mid-afternoon.