Archbishop of Canterbury visits Diocese of Oxford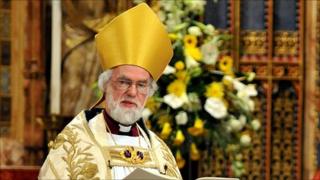 The Archbishop of Canterbury has visited Christ Church Cathedral in Oxford as part of a tour of the county.
Dr Rowan Williams began the day in Bicester where he blessed the site of the new Emmanuel Church and later visited the Food Bank.
He also met with some of the 150 students training for ordination at the cathedral.
On Monday he will view the Bodleian Library's exhibition about the making of the King James Bible.
The event is part of a four-day visit to Buckinghamshire, Oxfordshire and Berkshire, which began on Friday.
On Saturday a tree was planted in the churchyard of St Mary's in Banbury to commemorate the Archbishop's visit.
He said the Diocese of Oxford, made up of the three counties, "has always been one of the most varied and creative in the Church of England".