New centre in Slough to be called The Curve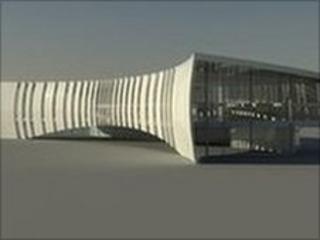 Slough residents have voted to call a £17.5m Berkshire learning centre development The Curve.
Three names were short listed out of 100 suggested by Slough Borough Council. The Curve won most votes, followed by The Pulse and The Wave.
Building starts next year on the project, which will contain a library, adult education facilities, a cafe and a cultural centre.
The Curve is part of a larger £450m "Heart of Slough" regeneration project.
Andrew Stevens, council assistant director for culture and skills, said: "I am really pleased Slough residents have been given the opportunity to choose not only the name but also tell us what facilities and services they wish to see in the new building.
"We will continue to involve local people to make sure the facility is the best it can be to meet their needs.
"The Curve is a great name for what will become a great new community complex that will put learning and culture at the heart of Slough's future."
The new building will feature a glass front and will be built opposite St Ethelbert's Church