Swinley Forest fire: Burnt woodland to be handed back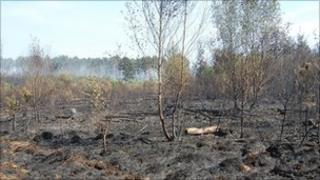 Crews are hoping to hand control of a Berkshire woodland back to its owners later after a severe forest fire.
The operation at Swinley Forest has been scaled down and the majority of firefighters have left the scene.
The land will be handed back to The Crown Estate and Forestry Commission, which will deal with further flare-ups.
Berkshire fire service has admitted it may never know the cause of fire but said it was likely a discarded cigarette or barbecue was to blame.
A spokeswoman ruled out arson but said some subsequent fires were thought to have been deliberate and investigations were continuing.
One road remains shut but businesses in the forest have reopened. Fire chiefs have praised the efforts of those involved in fighting the fires.
In total, 12 services from across the UK provided resources to tackle Berkshire's largest ever fire, which began on 2 May.
A handful of firefighters will remain at the scene over the coming days.
Provided cakes
About 300 hectares (740 acres) of forest was affected, of which 55% was damaged by the fire and forestry clearing operations.
Deputy chief fire officer Olaf Baars paid tribute to his staff and gave special praise the volunteers of the Women's Royal Voluntary Service.
"[They] produced literally thousands of sandwiches and hot drinks, on a round-the-clock basis, which helped to maintain morale."
He added: "This has been an exceptionally difficult and challenging operation.
"I would like to pay tribute to the contribution of our fellow fire and rescue services, who have been unstinting with their support.
"I would also like to thank members of the public in the area for their patience and understanding.
"Most of them took notice of our requests to stay away from the area and many local people provided sweets, cakes and biscuits for the crews, which was much appreciated."
Nick Hazlitt, of the Forestry Commission, said his team had to "start from scratch" to replace the destroyed area, thought to cost more than £100,000.
"There's clearly a very sort of traumatic, emotional element to this both for me and for my team but also for all the people who live here," he added.
"However the area will still function and very soon we will be able to open the forest back up."
The A3095 Foresters Way remains closed but all other roads in the area, which had been closed, have now reopened.