Delays as Reading rail bridges widening closes Cow Lane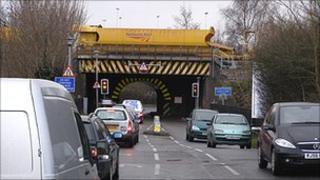 Commuters in Reading are experiencing heavy traffic in Oxford Road due to the closure of Cow Lane.
Utility works are taking place prior to widening the two Cow Lane rail bridges in 2012 and 2014 as part of a £850m revamp of Reading station by Network Rail.
Cow Lane, which will be closed until 31 May, will become a two-lane road with a cycle path and pavement.
The wider bridges will lead to an increase in rail capacity.
The Cow Lane South Bridge will be widened during Christmas, and will reopen at the start of 2012.
The north bridge will be widened in 2014, enabling traffic to pass more freely along Cow Lane.
BBC Radio Berkshire's Nicki Whiteman said on Tuesday morning: "The Oxford Road is suffering. It's taking all the traffic that would normally go under the Cow Lane bridges.
"it is stacking up as far back as the Portland Road, and is a lot busier than you would expect."
There will be a public exhibition next Thurday and Friday (19 - 20 May) at Reading station and on Saturday (21 May) at Reading Town Hall which will give more information about the rail revamp.