Joanna Brown 'killed by husband over pre-nuptial deal'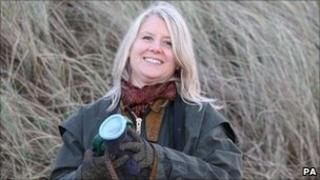 A pilot killed his wife then buried her body after their divorce descended into acrimony over a pre-nuptial agreement, a court heard.
The body of wealthy Ascot guest house owner Joanna Brown was found on land on the Queen's Windsor Estate last year.
Jurors heard Robert Brown felt there had been a "stitch up" by the contract he had signed when the couple married.
Mr Brown, 47, denies murder and obstructing a coroner from holding an inquest, at Reading Crown Court.
Prosecutor Graham Reeds QC said the pre-nuptial agreement in 1999 had caused Mr Brown, a British Airways pilot, "continuing resentment".
The court heard that on 31 October last year he attacked the mother-of-two, originally from the Isle of Man.
The jury was told Mr Brown drove to their home to drop off their children, taking with him a hammer or mallet.
On arrival, and with the youngsters out of sight, he began to hit the 46-year-old repeatedly around the head, prosecutors said.
Jurors heard he then bundled the children into his car, wrapped the body in plastic sheeting and dumped it in the boot before driving to a piece of woodland where he had already set down the make-shift coffin.
Mr Brown was arrested the following day after police were called to investigate the disappearance and discovered spots of blood at her home.
He later confessed to her murder and directed officers to woodland, prosecutors said.
'Planned to murder'
"The remote location of the grave, the advance preparation of it, and the collection together of materials needed to dispose of her body are, the prosecution say, clear indicators that the defendant had planned to murder his wife and dispose of her body in the park, intending that she never be found," Mr Reeds told the court.
Earlier, the court heard that by 2007 the couple's relationship had fallen apart and "divorce proceedings were, by any standard, acrimonious and bitterly contested".
The marital home was by then worth "a considerable sum" but ownership was in the name of Mrs Brown and a pre-nuptial agreement also gave Mr Brown no claim over his wife's trust fund, the court heard.
The trial continues.