Millionairess Joanna Brown 'had bodyguard after attack'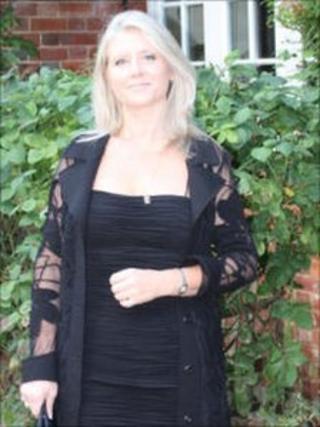 The family of a millionairess killed by her estranged husband hired a bodyguard to protect her after he "attacked" her with a knife, a court has heard.
The move came after airline pilot Robert Brown allegedly threatened to kill 46-year-old Joanna Brown as their relationship fell apart.
Reading Crown Court heard that even on her honeymoon, Mrs Brown feared her marriage had been a "mistake".
Mr Brown, of Winkfield, admits killing his wife but denies murder.
The 47-year-old also denies obstructing a coroner from holding an inquest.
The upmarket guest house owner's body was found buried on the Queen's Windsor Estate last year.
'Big knife'
Mrs Brown's mother, Diana Parkes, told the court family members had hated the British Airways pilot from the outset, while Mrs Brown's father Christopher had warned their union would "end in trouble".
He even encouraged his daughter to sign a prenuptial agreement for this reason, Mrs Parkes told jurors.
She told the court how her distressed daughter had called in July 2007 to say "Robert had attacked her with a knife".
"She said that he had put his hand, one hand, around the back of her neck and with the other hand, he pointed the knife to her chest.
"It was a big knife that she had just bought," Mrs Parkes said.
'You'll be dead'
Recounting the conversation with her daughter, she said a terrified Mrs Brown had apparently asked her husband what would become of the children if he killed her.
His answer was, "You'll be dead and I'll be in jail", Mrs Parkes told the court.
At the time, Mr Brown was convinced his wife was having an affair, jurors heard.
The court was told Mrs Parkes overheard a telephone conversation between her daughter and Mr Brown, while her daughter was visiting her on the Isle of Man, during which he apparently threatened Mrs Brown over the alleged knife incident.
"He said 'if you tell anyone about that, it'll be the worse for you'," she told the court.
Not long after, Mrs Brown returned to Tun Cottage, their sprawling marital home in Ascot, Berkshire, where she lived with "a friend".
When questioned over the status of the so-called "friend", Mrs Parkes said: "This was a bodyguard. We actually employed a bodyguard."
The trial continues.