Daughter, nine, saw father put mother's body into car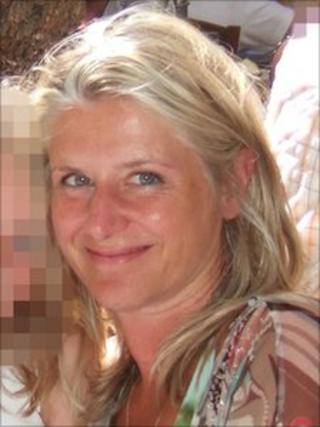 The daughter of a guest house owner killed by her estranged husband saw her father bundle her mother's body into the family car, a court has heard.
Airline pilot Robert Brown is accused of murdering 46-year-old Joanna Brown in Ascot, Berkshire, last year.
Reading Crown Court heard the nine-year-old had told police she had heard her parents "hitting each other" before her father brought the body to the car.
Mr Brown, of Winkfield, admits killing his wife but denies murder.
The 47-year-old, of North Street, also denies obstructing a coroner from holding an inquest.
The body of Mrs Brown, originally from the Isle of Man, was found buried on the Queen's Windsor Estate on 5 November 2010, four days after she was reported missing.
The court has been told the killing took place on 31 October following lengthy rows over divorce proceedings and a contested prenuptial agreement which he allegedly believed to have been a "stitch-up".
'He hurt her'
The girl, whose identity is being protected by a court order, told police she observed the scene with her 11-year-old brother from the playroom window of their mother's home.
In an interview read to the court, she recalled a violent row between her parents.
"Dad put Mum in the car because he, she, he hurt her," the court heard.
When asked what she had overheard prior to this, she replied: "Just banging."
She said she and her brother watched through a window overlooking the drive and the back of the silver Volvo 4x4.
Asked where her mother had been placed in the vehicle, she replied: "I think it was the boot, I don't know, I can't remember."
She told police how she and her brother had later climbed into the car, both sitting on the back seat, while their father drove them to his rented home, about five minutes away.
The court later heard a statement given by Mr Brown to police three days after the attack, where he admitted killing his wife after an argument.
'Garden centre box'
"Eventually I lost control and pushed her. What happened next, I can't clearly remember," he said.
"I was intending to take her to hospital," he said. "I do not know why I didn't call an ambulance."
He said he then "panicked", adding: "I put her in a box from the garden centre and buried her in Windsor Great Park."
In interview, he said there was "no chance" police would find the spot without him and he escorted a team to the secluded location.
The cross-country runner told officers he had dug the hole himself and then "dragged" his wife to the prepared grave, the court heard.
Earlier the jury heard Mr Brown called police himself at on 1 November to make an "appointment" following an "extremely serious" incident.
The trial continues.