Reading museum celebrates 60 years with The Archers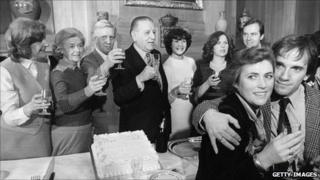 An exhibition celebrating the 60th anniversary of Reading's Museum of Rural Life and The Archers has been opened.
Both the agricultural history museum and the long-running soap began in 1951.
According to the museum's marketing officer, Alison Hilton, the two institutions began for similar reasons.
She said: "The years following World War II saw many innovations in farming.
"The BBC did have radio programming based around farmers, but it wasn't that popular.
"Radio 4's The Archers, was intended to be 'a farming Dick Barton', which was a popular crime serial at the time. But the BBC wanted to inform farmers as well."
Although The Archers quickly became popular entertainment it was also used to promote modern farming methods and took advice from the Ministry of Agriculture.
Farming artefacts
At the same time, an academic called John Higgs, working in the agriculture department of the University of Reading, noticed that traditional farming methods were disappearing from the English countryside.
He set up the Museum of English Rural Life to preserve historical farming artefacts for future generations.
Ms Hilton said: "Dan Archer in 1951 started off with two horses and changed them to a grey Ferguson tractor, which is actually one we have on display in the museum."
Over the past 60 years of The Archers, the soap has dealt with farming issues ranging from the rise of organic farming to the BSE crisis and foot and mouth disease.
The Museum of English Rural Life has also tried to move with the times, featuring in its collection more contemporary objects related to rural life such as a Laura Ashley dress, a Greenham Common poster and a badge from the Woodland Folk.
The museum has also moved from its original premises on Reading University's Whiteknights Campus to its current position in Redlands Road.
The Archers display will include photographs, footage and memorabilia that reveal the history of The Archers from 1951 to the present day.