Accused BA pilot 'considered crashing plane'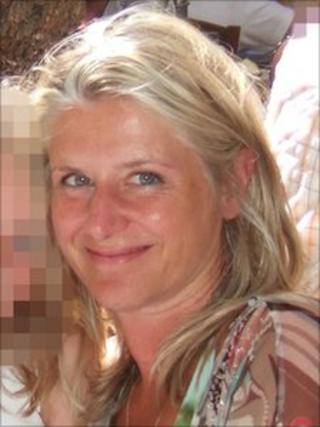 A pilot accused of murdering his estranged wife considered crashing a British Airways plane in the aftermath of the death, a court has heard.
Robert Brown killed his wife Joanna, 46, at their marital home in Ascot, Berkshire, last year.
The British Airways captain told jurors he thought about crashing a plane to make a statement over the actions of his wife's divorce lawyers.
Mr Brown, 47, of Winkfield, admits killing his wife but denies murder.
During his testimony, Mr Brown said he "burst" with rage against his estranged wife and then came to his senses to find her lying dead in a pool of blood.
He told Reading Crown Court: "I just lost it. I just burst and that's it. I just burst, and I can't remember.
"I just blew and the next thing I remember I was standing over Jo and there was blood all over the place."
"I'm sorry darling, I'm really sorry," he added.
'Smoking gun'
During his testimony, Mr Brown said he could not remember how many times he hit his wife or explain why he attacked her.
The father-of-three said he tried to stem the blood with a tea towel, but then put the body in his car before going to check the CCTV recorder in the couple's former marital home, Tun Cottage.
He dropped their two children off at his own rented home nearby, and told the court he initially planned to hang himself from their swing.
However, Mr Brown's anger at the way he had been treated by lawyers during his divorce proceedings and the thought that he might not see his family again led him to bury his wife's body in Windsor Great Park instead, the court heard.
She was found in a box which had been previously buried by Mr Brown, it was heard.
He claims this was a place to bury legal paperwork from the couple's acrimonious divorce proceedings, but that after her death things "spiralled out of control" and he ended up burying her body there.
Earlier in the day, jurors heard how the pilot found a letter from his wife's lawyers, dated January 2007, discussing divorce proceedings.
The couple were supposed to be seeking marriage counselling at that time, he said.
'Dug grave'
Mr Brown told the court: "This was a smoking gun, this. This letter that she'd already gone to get legal advice, saying that she wanted to get divorced... it's a sham, a complete sham."
Mrs Brown was allegedly bludgeoned to death with a hammer at the couple's mansion in Ascot on 31 October last year.
Her body was found on 5 November 2010, four days after she was reported missing.
The prosecution claims Mr Brown dug a grave for his wife weeks before the alleged murder and buried her body in a plastic garden crate.
He denies murder and obstructing a coroner from carrying out an inquest.
The trial continues.