1948 Olympic torch bearer recalls historic run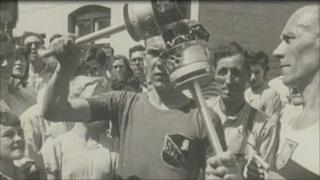 It may have been 63 years ago, but Charles McIlvenny still remembers his historic Olympic torch run well.
Now 81, he had just turned 19 when he was chosen to carry the 1948 torch on a two-mile Berkshire leg from Slough centre to George Green.
"I went to the starting point and had to take over from a man from the Slough Athletics Club," said Mr McIlvenny.
"It drew crowds galore and I had a job to get through to start my run. All the route was lined with people cheering me."
He added: "I didn't realise it was going to be so popular because it was just after the war in 1948 and it was a still a time of austerity."
The Langley pensioner, who at the time was a member of the Stoke Poges Recreational Club, remembered feeling "out of this world" and said "it was a great honour to be chosen".
But what made him equally proud was to show the Olympic torch to his father, who was ill in hospital.
"That was another moment I shall never forget," he said.
"It was upsetting, because that was in July, and in October he died.
"But he was so thrilled with me and it gave me such pleasure to see that in his face".
After his run the club had his name engraved on the torch, which all relay runners were allowed to keep.
Mr McIlvenny converted the torch into a lamp, which has has displayed in his landing.
His route, along the Uxbridge Road, was a single track back in July 1948 but is now a busy dual carriageway.
He said: "If I'm ever in the car with somebody going down that road, I'll say: 'this is the route that I ran'."