BA pilot 'did not plot Joanna Brown's killing'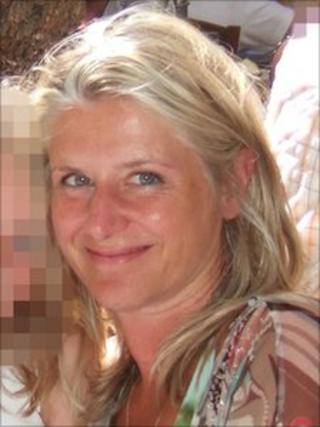 A British Airways pilot who bludgeoned his wealthy estranged wife to death did not "coldly and clinically" plot her murder, jurors have been told.
Robert Brown did not premeditate to kill Joanna because the couple's two children were in a playroom 30ft (9m) away, Reading Crown Court heard.
The guest house owner, of Ascot, Berks, was found buried on land on the Queen's Windsor Estate in November last year.
Mr Brown, 47, of Winkfield, admits killing his wife but denies murder.
He also denies obstructing a coroner from holding an inquest.
'Perfect partner'
Jon Whitfield QC, defending, told jurors the notion the 46-year-old's death was pre-planned was "preposterous".
He said Mr Brown "adored" his children and asked jurors to question why he would take two witnesses to the scene of a calculated murder.
"He did not just coldly and clinically carry out a plan," said Mr Whitfield.
"It is preposterous to say that he has carried out a premeditated crime.
"When he was well, he was a perfect partner, he was good with the kids, he clearly adored his children."
The couple's son and daughter, who cannot be named for legal reasons, were taken to their mother's sprawling mock-Tudor home by Mr Brown on 31 October last year following the half term break.
After they arrived a violent argument erupted between Mr and Mrs Brown, jurors were told.
The court heard that the attack took place following lengthy rows over divorce proceedings and a contested prenuptial agreement which he allegedly believed to have been a "stitch-up".
Mr Brown had earlier told the court he remembered nothing of the attack.
He told police he had been suffering from "severe stress" and a medical condition which substantially impaired his self-control.
The trial continues.