Newbury group Timespanners gets Lloyd Webber donation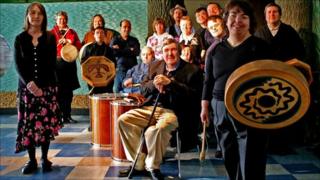 A Newbury music community group has been offered a "lifeline" thanks to a donation from Andrew Lloyd Webber.
His foundation, also based in Newbury, is investing in arts causes, which will eventually amount to a total of £32m, after the sale of a Picasso painting.
Timespanners, a group for people with physical or learning disabilities, has received a vital £4,500 cash injection.
"It was 100% a lifeline," said one of the group's professional musicians, Mark Turauskis.
"We almost went under last year," he added. "Funding is really difficult at the moment. We probably wouldn't be here if it wasn't for them."
Around half the money will go towards the cost of professional support musicians such as Mr Turauskis, formerly of 1980s band The Brickbats.
Other musicians that help out include David Jackson, a founder of 1970s progressive rock band Van Der Graaf Generator, and Reading-based Charles Spicer, who composed music for the recent films Pride and Prejudice and Far From The Madding Crowd.
Mr Turauskis said the group featured around 15 people with learning disabilities, and a few members have conditions such as ME and Cerebral Palsy.
"But we are a band first and foremost and the disability thing is secondary," he said.
"Quite often people don't realise until they come up close that it is a band with disabilities."
He added that £1,300 of the donation will go towards the development of new works, including the publication of a poetry book by one of the group members, Richard Westall.
Money is also going towards creating music on new "sound beams", devices that produce different sounds through hand motions and taps.
The group, which celebrated its 10th anniversary in March, is well-known in Newbury and often play at events such as the Thatcham Festival, Newbury Carnival and the Hungerford Blues Festival.
Timespanners has also been nominated for a Queen's Award.