University of Reading exhibit wins Chelsea Flower Show prize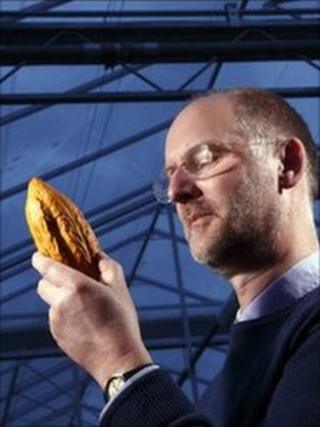 Research by the University of Reading into cocoa has won gold at RHS Chelsea Flower Show.
The university's stand, Your Chocolate World Secured, took top honours in the Continuous Learning Awards.
According to the university, cocoa is under threat from climate change as well as new pests and diseases.
The University of Reading took over responsibility for cocoa quarantine from Kew Gardens in 1985.
The International Cocoa Quarantine Centre (ICQC) is the only facility in the world set up to check cocoa plants for diseases and pests before they are exported to cocoa-producing countries.
The university is also carrying out a five-year research project into the effects of climate change on cocoa production, using greenhouses where scientists can simulate six different tropical environments.
According to the university, cocoa producers face significant problems from increasing global temperatures and more varied rainfall.
Cocoa is one of the most important sources of income for many countries in the humid tropics.
Ghana and the Ivory Coast produce nearly 70% of the world's supply.
The Reading researchers hope they can help crop breeders developing new cocoa varieties select ones better suited to future climates.
Andrew Daymond, university research fellow and co-ordinator of the ICQC, said: "Our exhibit explains all about the problems and challenges cocoa-growers face, the work we do at Reading to ensure that different types of cocoa are transferred between regions in a safe manner and research into how the crop responds to changing environmental conditions."