Labour to run Reading council as minority party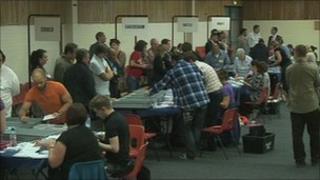 Reading Borough Council is to be run as a minority Labour administration after the new mayor cast the deciding vote.
The party gained three seats in the local elections in May but it was not enough to secure an overall majority.
The group failed to form a coalition but will run the authority with a minority after the new mayor, a Labour councillor, cast the deciding vote.
The 46-seat council is made up of 22 Labour members, 16 Tories, five Lib Dems, two Greens and one independent.
The Greens abstained in the vote for mayor and leader on Wednesday night which left it up to the new mayor, Councillor Deborah Edwards, to put her party back in power.
Thames bridge scheme
The Green party had earlier said it would not support a coalition deal with any of the main three parties.
Before May it had been a Conservative-Liberal Democrat coalition.
Labour group leader Councillor Jo Lovelock will now lead the authority.
In coalition talks, transport was the main area of disagreement between Labour and the Greens.
Labour will continue to consult on the third Thames bridge scheme, which the Greens had wanted to see scrapped.
But there are shared policy areas, in which the Greens will support the Labour party. Both groups said they are committed to improving community care in Reading.