Maidenhead revamp bid given planning boost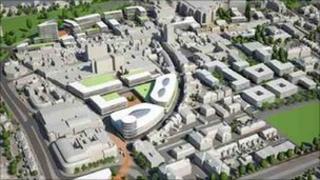 A scheme to regenerate a Berkshire town has passed a key milestone after the planning inspector described the proposals as "sound".
The 20-year plan for Maidenhead features retail facilities and housing as well as a new concert venue.
The Area Action Plan (AAP) was examined by planning inspector David Hogger who gave it a glowing report.
He said that it will deliver growth, stimulate regeneration and protect environmentally sensitive areas.
He also added that it will provide a focus for the revitalisation of the town centre.
The council has welcomed the conclusion and believes it will send out a positive message to potential developers, landlords and property agents.
Councillor Richard Kellaway said: "The regeneration of Maidenhead is a council priority and the stamp of approval for the AAP is a significant step forward.
"The plan stood up to intense public scrutiny by the inspector and now we have a document fit to meet the challenges ahead."
The council will formally adopt the plan later in the summer, subject to two small areas of change recommended by the inspector.