Newbury buses and offices vandalised overnight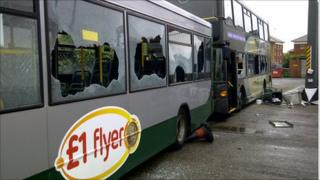 Six buses had their windows smashed by vandals who broke into a depot in Newbury, Berkshire, in the early hours.
Damage to the fleet of buses and two offices was discovered at the Mill Lane depot of Newbury Buses by the depot controller.
Five vandals were recorded by the CCTV system carryingout the attack. The video is now being studied by police who have made two arrests.
Spare buses were sent to Newbury and only one service was missed.
James Freeman, Chief Executive Officer of Reading Transport, said: "There was a lot of broken glass.
"They caused a terrible amount of damage to six buses and two offices."
Mr Freeman said the incident was unusual.
"I think this is a one off incident," he said.
Two men, aged 18 and 20, have been arrested on suspicion of criminal damage.