Sir Bob Geldof to give talk at education festival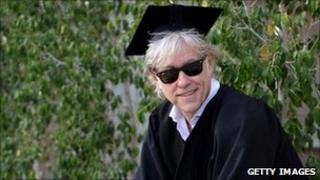 Sir Bob Geldof is among 150 keynote speakers taking part in a Festival Of Education in Berkshire.
The musician will speak about technology at the two-day event held at Wellington College, Crowthorne.
Issues discussed will include free schools, tuition fees, teacher training, brain science and academies.
Other speakers include historian David Starkey, scientist Lord Robert Winston, actress Jane Asher and Education Secretary Michael Gove.
The festival is open to everyone who wants to discuss schools and universities.
Faith schools
Wellington College headmaster Dr Anthony Seldon said: "I founded the Festival Of Education because the only events taking place were for teachers.
"I wanted to create something new, inclusive, celebratory and unique."
The not-for-profit event will host panels, lectures and workshops.
Among the events taking place are journalist Rod Liddle interviewing head of Eton College Tony Little and the Bishop of Oxford leading a debate on faith schools.
The Festival Of Education takes place on Saturday 25 and Sunday 26 June.