Reading city bid: MPs fear 'aggressive' expansion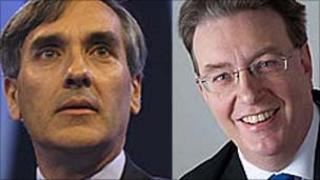 The MPs for Wokingham and Henley have voiced concerns over Reading's ambitions to become a city.
Reading MPs Alok Sharma and Rob Wilson gave their support for the town's bid during a parliamentary debate on Wednesday.
They spoke of the Berkshire town's history, economic strength, universities and schools.
Fellow Conservative MPs John Howell and John Redwood expressed reservations, while pledging their support.
Mr Howell said: "How different would a city be from the current Reading town in its territorial ambitions and in terms of building into my constituency? The town has always seemed to have a very aggressive approach.
"How different would a city be from the town in tackling major emotive issues such as transport, including the long-running possibility of a new bridge across the Thames, which would throw lots of traffic into south Oxfordshire?"
Bookmakers' favourite
Responding to Mr Sharma, Mr Redwood said: "I wish my friend every success. He is making an elegant case for city status for Reading, but will he reassure Wokingham that no extra territorial demands will be made if Reading gains the honour of being a city?"
Reading has emerged as the bookmakers' favourite to receive the honour as part of the Queen's Diamond Jubilee celebrations next year.
Civic chiefs believe if successful it would bring huge economic, cultural and social benefits to the area, as well as a jobs boost.
Middlesbrough, Bournemouth and Tower Hamlets in London are also bidding.
Blackpool, which had also been a favourite, pulled out of the running on Thursday.
The successful candidate will be announced early next year.