Twin red deer calves born at Bucklebury Farm Park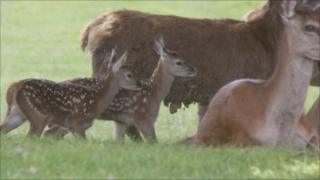 Visitors to Bucklebury Farm Park may glimpse a pair of red deer calves which were born on Monday.
The twins are said to be strong and healthy and have been playing together and suckling on their mother, according to park rangers.
The deer hinds usually give birth to a single calf - this is the first ever arrival of twins in the herd which was formed in 1992.
Park ranger Mick Gray said he had never seen twin newborn deer calves before.
Star attraction
He said: "I was taking one of our tractor safaris out into the park and we were looking for the newborn deer calves - I could not believe it when I saw them together.
"The hind was quite calm so we were able to stop and watch them for some time. They are both a good size and mum is doing well too so it is good news all round."
Farm Park owner Rupert Hartley Russell said: "We are not sure yet whether they are girls or boys as we haven't got close enough to see so we haven't been able to name them, but it's going to be fantastic watching them progress over the next few months."
Bucklebury Farm Park's twin red deer calves will be the star attraction at the farm's Countryside Day on 19 June, which will include activities such as climbing, kayaking and mountain boarding.