BBC Berkshire Bus: Find out where it's going to be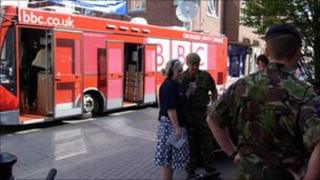 Meet presenters and find out what happens behind the scenes at BBC Berkshire as the BBC Bus starts its tour of the Royal County and its nearby attractions.
BBC Radio Berkshire's Anne Diamond, Debbie McGee, Susanne Courtney, Colin Evans and Andrew Peach will all come along and join in the fun as well as the friendly BBC Radio Berkshire team.
The bus will be stopping every morning from 1000 BST to 1400 BST at a local beauty spot,
The aim of the bus is to bring your local radio station closer to you.
<a name="BBC Bus"></a>THE BBC BUS