Brother: festival slot "deserved"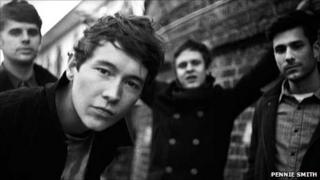 Brother are "one of the most talked about bands of 2011", according to the official Reading Festival website.
And it is perhaps this reason why the band have landed a penultimate headline slot on the Festival Republic stage, despite only being signed to major label Geffen last year.
The four-piece were signed within two months of launching themselves on the gig circuit.
The media limelight has beamed on to the Slough band thanks to a few caustic comments from Liam Gallagher, who dismissed them as "posh boys with tattoos".
Frontman Lee Newell's forthright remarks on stage and to journalists has also earned them a fair few column inches.
But otherwise Lee thinks their Reading Festival slot is "deserved".
"I've been going for about eight years, I haven't missed a year," said Lee of the festival.
Restaurant gig
"It's something I've always envisaged my whole life so to actually finally be doing it is quite a moment.
He added: "It's a culmination of eight years of hard work, so I think it's deserved finally."
The band will be playing their album in full during their set, which must feel a long way from Lee's first gig at a Slough tandoori restaurant.
"And we did infamously get paid in curry," he said, "so that was a spicy end to the night - pun intended."
They've continued to support their home town in Berkshire, filming first single Darling Buds Of May on the roof of the local Royal British Legion, and recently performing at the local arts venue.
"It was an amazing home town vibe," said Lee.
Their Reading Festival gig will also have their families in the audience, so will Lee's performance be tempered?
"I get more nervous playing before family than I do in front of 20,000 people," he said. "Maybe I'll have to watch the words I say."
Brother's Stephen Street-produced debut album, Famous First Words, is out on 1 August and they are currently on a tour of European festivals.
Brother play at the Reading Festival on Sunday and the Leeds Festival on Friday.