Marine proposes to girlfriend after bravery award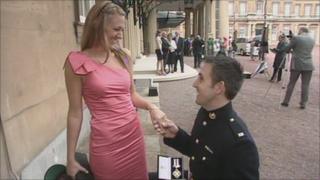 A Royal Marine has proposed to his girlfriend minutes after being honoured for his bravery by the Prince of Wales at Buckingham Palace.
Marine Mark Jackson, 28, of Newbury, Berkshire, was collecting his Conspicuous Gallantry Cross.
It was awarded after he threw back a grenade and shielded his comrade from the blast in Afghanistan last year.
Shortly after the ceremony he went down on one knee in the grand ballroom to ask Rebecca Daniel, 29, to be his wife.
He said he had told Prince Charles about his planned proposal as he collected his medal.
"I told him I was going to propose and he said 'Many congratulations in advance'," he said.
Miss Daniel, from Budleigh Salterton, Devon, wore a solitaire diamond engagement ring when she emerged in the Palace quadrangle afterwards.
She said: "It was totally unexpected. It's a day that's not going to be trumped for a while.
"It was an immediate 'yes'. I think he's been putting me off the scent for a while."
Marine Jackson, who recently injured his ankle, joked afterwards: "I went down on one knee. I fought through the pain."
He had been on look-out duty in Helmand province when he picked up and threw back an insurgent's grenade before lying down on a comrade to protect him from the explosion.
"I was just a baby marine when I went out there," he said.
"The prince read the citation and he just said he couldn't believe it."
His medal citation described how his "only thought was for the life of his comrade who, had he hesitated for one moment, would have been killed".
Recalling dealing with the grenade, he said: "I just thought that's going to hurt and ran over and launched it back.
He added: "There are so many stories out there that are untold - so many lads that deserve this."