Newbury £2m flood relief plan 'to protect 380 homes'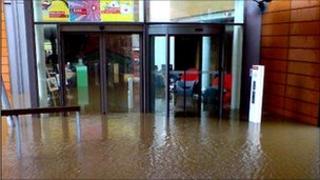 Flood relief plans for a "high risk" Berkshire town will protect 380 homes, the Environment Agency has said.
Newbury experienced major floods in 1947 and 1960, with smaller scale floods affecting the town more recently in 2000, 2003 and 2007.
The agency is proposing defences costing £2m that include embankments, walls and ground level raising.
Following a public consultation the plans will be submitted to the agency's review board for funding approval.
The Newbury Flood Alleviation Scheme is designed to protect areas of Newbury with a 1% chance of flooding in any year.
Areas include the town centre, residential areas around Russell Road, Northcroft Park, Northcroft Lane and Victoria Park.
The scheme also aims to protect 70 business properties around Ampere Road and London Road.