Middleton family shopkeeper admits fraud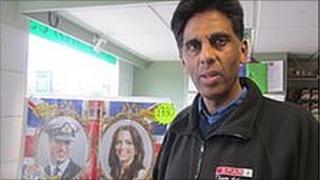 A shopkeeper who attended the royal wedding as a guest of the Middleton family has admitted fraud.
Hasmukh Shingadia, 51, pleaded guilty to one charge of false accounting between December 2008 and March 2010 at Oxford Crown Court.
The Duke and Duchess of Cambridge used to be clients at his Peaches Spar shop in Upper Bucklebury, Berkshire, near the Middleton's family home.
The judge granted him bail until a sentencing hearing on 21 July.
Shingadia claimed that the amount of cash-in-hand money held at a Post Office branch inside his shop was greater than the true figure.
'Good character'
Nigel Daly, defending, told the hearing that his client was suffering a cash flow problem at the time with the non-Post Office side of his business, and had always intended to pay back any gains made through his scheme.
The judge, Mr Justice Saunders, said he was "taking money from the Post Office bills to meet bills on the other side".
Shingadia pleaded not guilty to one count of theft of £16,180. The prosecution asked for the charge to lie on file.
Judge Saunders told him that all sentencing options remained possible.
"I am giving you no indication of what the likely sentence will be in relation to this," he said.
He added that Shingadia was "a man of previous good character".