Windsor statue to honour Irish Guards unveiled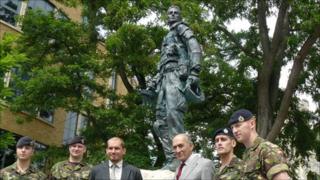 Hundreds gathered in Windsor to see a new statue of a guardsman unveiled to honour the 1st Battalion Irish Guards.
The 6ft (1.8m) bronze figure stands on a plinth at the junction of Park Street and Sheet Street where it rises 15ft (4.5m) from the pavement.
The figure, commissioned by the Irish Guards and sculpted by a former paratrooper, has been cast in bronze salvaged from the Iraq war.
The plinth is surrounded by cobbles from Afghanistan.
The Guards wore their distinctive red tunics and ceremonial bearskins as the statue was unveiled.
Their marching band also attended the unveiling, presided over by Windsor Mayor Asghar Majeed and Major General William Cubitt.
Maj Gen Cubitt said of the statue: "This fine-looking guardsman is on the fringe of the battlefield, weary from action, but poised, ready to see through an untold mission."
'Athletic and hardened'
He said the Guards had decided to do "something different" than commission a traditional oil painting to commemorate the Queen's presentation of new colours to the battalion in May 2009.
Maj Gen Cubitt said the statue "encapsulated the modern Guardsman, athletic and hardened, wearing Osprey body armour, as if straight from Afghanistan."
He added the statue would be a tribute to all Guardsmen and a "beacon" to the young men who would join their ranks in the future.
The creator of the sculpture, Mark Jackson, is a former paratrooper who studied art in Florence, Italy, after his career was cut short by a serious accident.
Speaking of his "nine fantastic years" as a paratrooper, he said: "I knew my life's work would be as an artist but I had to go and scratch that itch as a young man."
The statue was unveiled the day before a planned medal parade by the Irish Guards which will be attended by the Duke and Duchess of Cambridge.
A number of road closures will be in place in the Berkshire town on both days.