Maidenhead 'dangerous' footpath to be made safer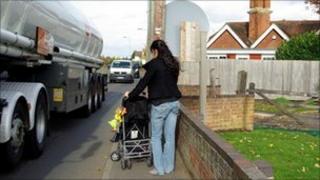 Berkshire residents have won a campaign to improve pedestrian safety on a footpath they say is "dangerous".
The footpath in Waltham Road, Woodlands Park, Maidenhead, measures 50cm (19in) wide when passing a telegraph pole.
A council cabinet meeting on Monday night approved plans to move the telegraph pole as well as a lamppost.
Campaigner Heather Scott said she was "very pleased" with the outcome that will stop "vulnerable" people being forced to walk in the road.
A petition with 90 signatures was handed in to the council in February.
Mrs Scott said that wheelchair users and people with buggies have difficulty walking along the narrow path, which runs alongside a road with a 30mph speed limit.
She added that a postman had been hit in the back by the wing mirror of a lorry.
A disability officer for the council had also inspected the road, raising safety concerns.
The Royal Borough of Windsor and Maidenhead Council approved the plans after liaising with British Telecom, which owns the telegraph pole.
Highways councillor Phil Bicknell said: "We've talked to BT and they're happy to move the telegraph pole for about £5,000.
"We're going to move the lamppost further on which will make it a lot safer to walk past that part of the road without so much danger."