Tesco plans depot for Courage Brewery site in Whitley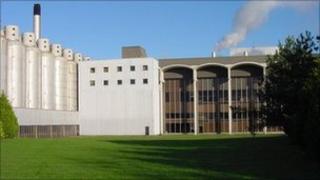 Supermarket chain Tesco has said it could bring 1,000 jobs to Whitley by building a food distribution depot on the old Courage brewery site.
Its subsidiary Spen Hill Developments intends to put in a planning application to Reading and Wokingham Borough Councils in July.
The company hopes to open the new depot within a year if all goes to plan.
It says 1,000 jobs will be created at the depot, including 100 managerial jobs and 150 construction jobs.
There will also be jobs for warehouse staff, drivers, supervisors, catering and maintenance, with shifts available over a 24-hour period.
'Less impact'
An public exhibition outlining the plans for the area will be held at St Agnes Church Hall in Northumberland Avenue on Friday from 1600 to 2000 BST and on Saturday between 1000 and 1400 BST.
A Tesco spokesperson said the new building would have "less impact" than the old brewery building on the surrounding area.
People who attend the exhibition will also have the chance to apply for jobs at the new depot.
Scottish & Newcastle (S&N) announced its intention to close the former Courage Brewery in Reading in 2008.
S&N, which has since been taken over, said it ended work at the 58-acre site next to the M4 due to an "over-capacity in the UK brewing industry".