Henley Regatta inspires Australian dry river race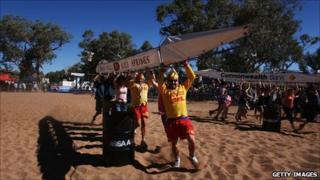 The world's top rowers are in Henley-on-Thames to take part in the town's famous royal regatta.
But on the other side of the world, competitors are preparing for the 50th Henley-on-Todd regatta.
Inspired by the Henley Royal Regatta, the Australian event began in 1962 and takes place on the bed of the Todd river which is almost perpetually dry.
It involves bottomless boats of all shapes and sizes being carried by their crews in a dash to the finish.
'Bottomless boats'
Eleanor Dennis, president of the Alice Springs Rotary Club and commodore for the 2011 Henley-on-Todd regatta, said: "You have bottomless boats, you step inside the boats and you run in the sands with them down to the marker and back.
"It's like Fred Flintstone and his car in The Flintstones."
A flotilla of different crafts, including yachts, kayaks and rowing boats take place in the race in August.
The race was founded by the town's Rotary Club and was started to raise money for charity.
The event has only been "washed out" once in 50 years, when the Todd River made one of its rare appearances due to flooding.
The Henley Todd Regatta is well known in Australia and is one of the longest-running event in the Northern Territory, according to organisers.
However its history is dwarfed by Henley Royal Regatta.
The annual event on the River Thames on the Oxfordshire-Berkshire border first began in 1839.