Four houses in Maidenhead are struck by lightning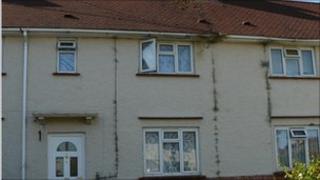 Four houses in Maidenhead have been struck by lightning which caused damage to a roofs, left holes in walls and short-circuited appliances.
Residents were woken by the noise at 0600 BST on Tuesday in Ellington Park, and emergency services were called out.
Munira Nisal said it sounded like "a bomb going off" as the storm destroyed her son's computer and caused a small fire behind the television.
Mrs Nisal said: "I was really frightened and didn't know what to do."
She added: "We're so glad that everybody's fine. Everything can be replaced."
Mrs Nisal said her husband managed to put the fire out but they then found large holes in a bedroom wall.
John Barnes, from Housing Solutions, an affordable housing company in Maidenhead which manages properties on the estate, said the event was "very rare".
"This is the first one I've seen in my time here," he said.
Fuse boxes elsewhere in Ellington Park, which contains 100 houses, also tripped due to the power surge.
Repairs to the houses are already underway.