Hundreds march through Reading in pension protest rally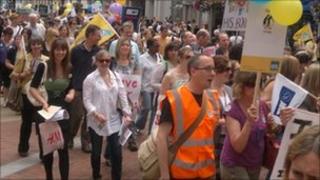 More than 300 public sector workers have marched through Reading protesting over future pension plans.
The rally was organised by the Reading, Wokingham and Bracknell Association of Teachers and Lecturers (ATL).
Strike action by the ATL and National Union of Teachers (NUT) also saw more than half of schools in Berkshire closed or partly closed.
Tory-led Windsor and Maidenhead council leader David Burbage said the action "inconvenienced thousands of parents".
"It's with great reluctance we are striking, we would much rather negotiate," said Jenny Inglis, ATL executive member for Berkshire.
Ms Inglis said she was striking for her two-and-a-half year-old grandson, who she wants to have "good quality, well-rewarded teachers" in his school.
The NUT and ATL took action across the county's six boroughs. The Public And Commercial Sector Union (PCS) also walked out.
Out of 329 local authority-run schools in Berkshire, 108 closed and 77 were disrupted. However 144 remained open.
'Great reluctance'
BBC reporter Emma Midgley, who was outside Waingels College in Woodley, near Wokingham, said cars beeped their horns in support of more than 20 teachers on the picket line, who had vuvuzelas and whistles.
Debi Benson, head of social sciences and a mother of two, was one teacher who walked out.
"I came into teaching as a single mum and it was a good secure career," she said.
"They want us to work longer, pay more and get less.
"I will be paying an extra £100 a month which makes a big difference."
David Burbage, leader of Windsor and Maidenhead council, said the strike had "inconvenienced parents in the hundreds and thousands".
Farming community
West Berkshire ATL secretary Teresa Dawes said the royal wedding bank holiday during revision time would have been more disruptive than the strike, which is held after most GCSE exams have finished.
South East PCS representative Keith Johnson said Berkshire's farming community could be affected by striking staff at the Reading-based Rural Payments Agency.
He added that the "vast majority" of Berkshire's 2,008 PCS members went on strike, affecting service to Berkshire's job centres, courts and tax offices.
And in Slough, more than 20 PCS members staged a picket line outside the job centre where they chanted and sang.
However, about a dozen workers did turn up for work and were backed up by extra staff, which included managers.
PCS branch secretary Christine Hulme: "The job is not to be nasty and alienate people, the job is to try and explain our case to the public.
"We are getting plenty of toots from passing motorists. We have had no hostility whatsoever."