Caversham holds festival for Reading centenary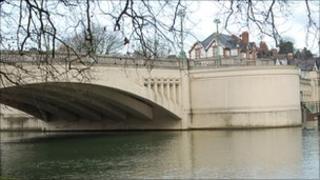 Community groups from a Berkshire suburb are marking the centenary of Caversham's inclusion as part of Reading with a £35k lottery-funded project.
The Oxfordshire village became part of the town in 1911 but this is described by the local website Caversham.org as a "black day".
More than 500 residents of Caversham lobbied Parliament to protest over the annexation of the village by Reading Borough Council in 1910.
At the beginning of the 20th Century, Caversham was a rural village, whereas nearby Reading was known for its industry.
However, Reading Borough Council promised to provide better utilities and two new bridges over the Thames linking the village to the town if Caversham came into the fold.
Helen Lambert, chair of Caversham and District Residents' Association, said the anniversary was a "complicated issue", as people in Caversham still felt ambivalent about being part of Reading.
Popular place
"Before 1911, Caversham was growing extremely quickly and the infrastructure hadn't been keeping pace," she said.
"It was a popular place to live, in part due to the expansion of Reading. A large number of the population who lived in Caversham worked in Reading and children were going to school over there."
Following the village's inclusion in 1911, Caversham Bridge was built 15 years later.
It replaced an iron bridge dating from 1865.
Holy well
Nearby Reading Bridge was also built in 1923 to improve access over the Thames.
Mrs Lambert said she had used the centenary as an excuse to explore the history of Caversham which was an important pilgrimage site by the beginning of the 16th Century.
It was the site of the holy well of Saint Anne, the mother of the Virgin Mary and the patron saint of infertile women.
Catherine of Aragon, Henry VIII's first wife, is said to have visited the Our Lady of Caversham shrine, the exact site of which is disputed.
The shrine was destroyed during the Reformation but St Anne's Well can still be seen today at the top of Priest Hill, Caversham.
Caversham Bridge was also the scene of a major battle in the English Civil War.
A festival over the next 10 days celebrating the village's history will be held by the Caversham 100 Years On project, and further events will be held throughout the year to celebrate the 100-year-anniversary.
Highlights will include an Edwardian-themed tea party in Caversham Court in September.