Slough taxi drivers 'urinating' in Kenilworth Close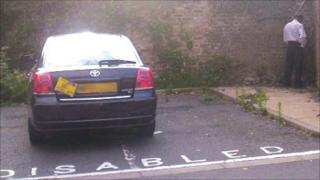 A man has said he feels "totally frustrated" that taxi drivers are urinating outside his home a year after he first complained to the council.
Colin Davey, 60, of Kenilworth Close, Slough, said he took a photo of a driver urinating on Saturday.
He said he had contacted the council "many times" since July 2010 but felt like "nobody gives a damn".
The council said it was not able to comment but Mr Davey said he had been told offenders would be dealt with.
He said he and his neighbours took "a lot of pride in our little close" but drivers were continuing to urinate in a disabled parking bay.
"Anybody in a wheelchair waiting to get into a car has to plough through these puddles of urine," he said.
'Only water'
"If I provide the police or Slough council with clear evidence in photos, they must be able to act on that and revoke taxi licences," he said.
Mr Davey said he had spoken to the drivers themselves.
He said: "The last one I spoke to on Saturday evening just waved to me, gave me a smile and said, 'it's only water'.
"My reply to him was: 'I turn the tap on and I get water, I bathe and shave in water, I cook in water.
"I don't want to boil my potatoes and piddle in the saucepan before I cook them."
The council said it could not comment as there was an investigation going on.