A gold-medal racer from Berkshire has his bikes stolen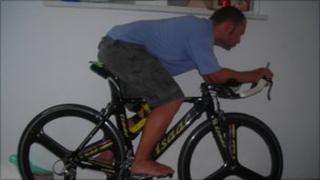 A disabled athlete who won two Paralympic World Cup gold medals in 2005 has had his three racing bicycles stolen from his home in Berkshire.
Matt Plested, who won the 200m sprint and 1km time trial in Manchester said it felt like part of his life had been lost as the bikes were his "freedom".
The distinctive racing bicycles are worth £9,000 in total, he added.
The bicycles were stolen from a shed in the back garden of Mr Plested's home in Kingsway, Reading, on 1 July.
Mr Plested, 38, is paralysed down the left side of his body following a motorcycle accident 12 years ago.
Neck broken
He broke his neck and his back and suffered spinal chord damage which has resulted in him only being able to pedal with his right leg.
Mr Plested, who had spent the last three years modifying his bicycles into the perfect position for competitive cycling, had been due to race later this month in a triathlon but will now be unable to compete.
He said: "I just want my bikes back because they are my life. They help me with my rehabilitation, both mentally and physically.
"Words can't describe how this has made me feel. It's like part of my life has been lost because they are my freedom.
"When I'm on my bike I don't feel disabled - it's heartbreaking to have them taken away from me."
The Paralympic World Cup is the biggest international elite level disability competition after the Paralympic games.
The three bicycles are described as a black-framed Isaac, a white-framed Pinarello - serial number F88385 - and a silver-framed Dolan.
Anyone with information about the theft is asked to contact Thames Valley Police.